Best Cordless Lawn Mower -21" Battery Self Propelled
The LM2135SP is the same model range as the EGO LM2130SP which won Best Cordless Lawn Mower Overall award. Includes 7.5Ah battery and rapid charger.  The 21″ deck makes it suitable for medium to large yards. Has the power of a gas mower and loads of features. If you have the budget, buy the EGO LM2135SP cordless mower, you won't regret it!
Our Verdict
WHAT WE LIKE

 
WHAT WE DON'T LIKE 
+ 60 minute battery run time. 7.5Ah battery & rapid charger included
– Poor fitting side discharge chute
+ Self propelled 
– Doesn't have a roller for striped lawn
+ 21″ Cutting width (good for large yards)
 
+ Has the power of a gas mower
 
+ Mulching, Discharge & Grass collection
 
Let's be honest — mowing the lawn is a chore, especially if you've got a lot of ground to cover.  While lawn mowers can reduce the amount of work we have to do, most of them are still a bit lackluster. However, EGO's new addition to the LM series promises to transform lawn mowing into a fun and exciting experience. But is that true, or is the EGO LM2135SP just another lawn mower with a big marketing budget? Let's take a look and find out in our EGO LM2135SP review!
21″ (53cm) cutting deck
Side discharge, mulching & grass collection bag
Best cut using multi-blade cutting system
Mow up to 1000 square meters (11,000 square feet) on a single charge 
Handles fold flat for easy storage
Self propelled with adjustable speeds
Power share batteries with other EGO Power+ products
Powerful electric motor (
7 different cutting heights
Video clip showing why the EGO LM2135SP is the best cordless lawn mower 
EGO advertises the LM2135SP as one of the most reliable and effective lawn mowers on the market. It promises 60 minutes of run time, 7 easy-to-adjust heights, accessible touch drive technology, and a unique multi-blade cut system. The LM2135SP also comes with a 5-year warranty, showing how much trust EGO has in its high-end lawn mower series. So, on paper, the LM2135SP is one of, if not the best, lawn mowers on the market, crushing its competition. But let's see if that's truly the case.
It doesn't take much to notice the impressive design of the EGO LM2135SP. In fact, the more we look at it, the more we are impressed by its build quality and ergonomic features. It's clear that EGO wants its customers to use this lawn mower for both casual and heavy-duty mowing. So we don't think you should worry about damaging or breaking this lawn mower anytime soon.
As previously mentioned, the LM2135 should feature a powerful battery that lasts up to 60 minutes. We decided to give it a shot and see just how reliable and trustworthy EGO truly is. But to our surprise, the battery lasted even longer than advertised, as we managed to squeeze a few more minutes out of it. Needless to say, the LM2135SP manages to crush our expectations when it comes to battery life. And while results may vary depending on the angle and type of lawn you are mowing, there's no denying that the LM2135 has impressive battery life.
It's also worth noting that this product comes with its own Power+ Rapid Charger, which should fully charge your battery in about 60 minutes. And if that wasn't enough, you can even purchase an additional 10 Ah battery, which increases the run time to almost two hours. Not only that, but you can reuse batteries from old EGO lawn mowers, although, we are not sure why you would want to downgrade from the included 7.5 Ah battery.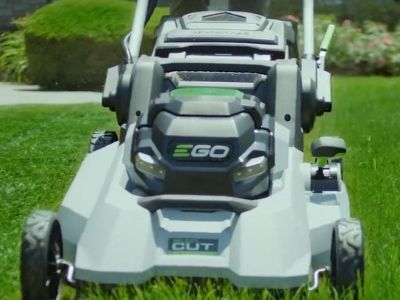 Moving on, we continue to be impressed with how LM2135SP makes each of its features easy to access. For example, if you want to adjust its height, you can do so by using the green releases on either side of the handle. No longer do you have to adjust individual wheel settings like in the good old days. Now, a simple handle allows you to raise or lower the lawn mower anywhere between 1.5 and 4 inches.
Select Cut Multi-Blade System
We are usually very skeptical about features that sound like they were made up by a marketing department. However, the LM2135SP Select Cut Multi-Blade System is anything but that. So, here's how it works. The mower is equipped with three interchangeable lower blades that let you customize your cut. It already comes with the mulching blade installed, allowing you to add a high-lift blade or an extended runtime blade. And while the top blade is always fixed, you can also mix and match the lower blades as you see fit.
The Touch Drive function is another interesting feature of the LM2135SP. You can activate this function using the accessible buttons on the lawn mower's handle. The middle dial allows you to adjust the speed of self-propelling, with 10 levels to choose from. And by pressing and holding the left button, you activate the function, which means that you don't have to push the lawn mower anymore, you just have to guide it.
However, there's a bit of a learning curve when using Touch Drive, as you have to time the turns just right to avoid hitting a tree or fence. But once you get used to it, self-propelling is as easy and reliable as the old pushing method.
At the end of the day, nothing is more important than pure performance, and we are happy to say that the LM2135SP doesn't disappoint. It cuts right through all types of grass, without any issues. And due to its high-quality blades, the grass clippings are so small that they are almost invisible.
Additionally, while not entirely silent, the LM2135SP is surprisingly quiet. In fact, it's so quiet that you can just pop your headphones and listen to your favorite songs while you mow your lawn. And unlike classic gas mowers, your neighbors won't be alerted each time you use the LM2135SP.
EGO LM2135SP Specifications
| | |
| --- | --- |
| Weight | 76 lbs \ 34.5KG |
| Voltage | 56 Volt |
| Drive | Self Propelled (adjustable speeds) |
| Cutting Width | 21 inches |
| Maximum Cut Area (single battery 7.0Ah) | 11,000 square feet |
| Cut Height Ranges | 1.5 to 4 inches (7 positions) |
| Maximum Grass Bag Capacity | 2 Bushels \ 70.4 Litres |
| 3 in 1 Function | Mulch, Discharge & Collection |
| Warranty | 5 Years (not include batteries) |
EGO LM2135SP Cordless Lawn Mower
1 x 7.5Ah Battery
1 x Fast single port charger
Side discharge chute
Grass Collection Bag
Mulch Plug
Instruction Manual

The above lists the box contents of the model LM2135SP
Overall, we believe that the EGO LM2135SP is one of the best lawn mowers on the market. Not only is it extremely effective and durable, but it also has a variety of features that elevate it above other similar products. And thanks to its customizable components, you can adjust and adapt the LM2135SP to your particular needs.
The EGO LM2135SP is the same model range as our favourite cordless lawn mower, the LM2130SP which we awarded the Best Cordless Lawn Mower Overall!
Note: The difference between the LM2135SP and the LM2130SP is that the LM2135SP includes a battery and charger with the purchase.
TGS NEWSLETTER
Sign up to get the latest reviews, news, tips and where to get the best deals!
You will only get emails from TGS (no 3rd parties)
We generally send one email per month