EGO Power+ LM2130SP Review
A true gas lawn mower alternative. The LM2130SP 21-inch 56 Volt Cordless Lawn Mower is a high end cordless mower with all the power and features you could possibly want. When powered by the huge EGO 7.5Ah battery expect 60 minutes runtime. Cuts through the toughest of grass. Well suited for medium to large yards. Worthy winner of our BEST CORDLESS LAWN MOWER 2021 award.
Our Verdict
| | |
| --- | --- |
| WHAT WE LIKE  | WHAT WE DON'T LIKE  |
| – Excellent battery run time (about 60 mins) | – Poor fitting side discharge chute |
| – Self propelled  | – Doesn't have a roller for striped lawn |
| – 21″ Cutting width (suitable for larger yards) |   |
| – Has the power of a gas mower |   |
| – Mulching, Discharge & Grass collection |   |
In the last few years cordless lawn mowers have come along way. They have been able to go head to head with similar sized gas or corded electric mowers used for small and medium sized lawns. When is comes to larger lawns and tough grass conditions, cordless lawn mowers have always come second place to gas mowers. However, EGO Power have produced a real game changer with the LM2130SP cordless lawn mower.
Carry on reading our review of the LM2130SP to see why we think it is such an excellent mower and why it has won our Best Overall Cordless Lawn Mower 2021 award!
Blade length: 21″ (53 cm) cutting blade
Grass collector, mulch or side discharge
Multi-blade cutting system for best cut & performance
Mow up to 11,000 square feet on a single charge 
Handles fold completely flat for easy storage
Self propelled with adjustable speeds
Power share batteries with other EGO Power+ products
Super powerful electric motor
7 different cutting heights
Video clip of the EGO POWER+ LM2130SP doing its thing
As you might expect from a lawn mower designed for larger lawns, the EGO LM2130SP is self propelled using rear wheel drive. The speed at which the mower goes can be controlled between 0.9mph  and 3.1mph. The variable speed is controlled using Tough Drive technology which is managed using a simple dial to increase or decrease the speed. This is a really useful feature and is not found on many other lawn mowers.
For information there are different model variations of this EGO Power+ cordless lawn mower
Model: LM2130SP = Self Propelled
Model: LM2130 = Manual push
We strongly suggest going for the self propelled model.
Compared to a gas lawn mower the LM2130SP is relatively lightweight, however it is still quite a heavy weight to be pushing around. Especially if you plan on using the grass collector which will make it heavier.
If you do decide to buy the EGO LM2135SP lawn mower it should be noted that this model doesn't come with a battery or a charger! The battery and charger can be purchased as separate items or go for the EGO LM2133 (not self propelled) or EGO LM2135SP (self propelled) which come with both battery and charger.
If you get the EGO 56V ARC Lithium 7.5 Ah battery, expect to get about 60 minutes of runtime. Which is pretty good considering it is self propelled and has powerful motor. 
The rapid charger typically takes about 1 hour to fully charge the 7.5Ah battery. The charge time is among the quickest you can expect from any cordless lawn mower brand.
The EGO batteries are compatible with other EGO products, such as weed whackers, leaf blowers and other cordless lawn mowers. 
It is generally a good idea to get the highest Amp Hour (Ah) battery that you can afford. You will only need one battery that can be shared with all other EGO cordless power tools
Obviously one of the most important features of any lawn mower is how well it cuts the grass. Thanks to EGO's Select Cut multi blade system the LM2130SP cuts grass brilliantly. 
The Select Cut blade system features 3 different blades that each have a specific purpose. The blades can be used together or changed depending on how you want the grass cut.
The  Mulching Blade This blade gives a great cut, and chops the grass into fine fragments that are suitable for mulching.
The High Lift Bagging Blade has been designed to increase suction and is used when the grass is to be collected in to the collection bag.
The Extended Runtime Blade gives a great quality cut but also maximises battery runtime.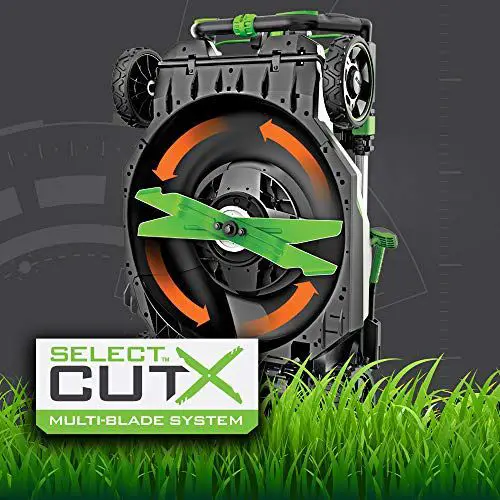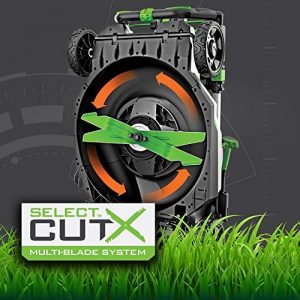 The LM2130SP has an amazing amount of power for a cordless lawn mower. It is capable of cutting through all types of grass conditions. If you've been holding back from getting a cordless lawn mower because you were concerned that they don't have the power of gas mower, then think again. 
The mower handles fold down so they are completely flat. This allows for the mower to hang from a hook or stored on shelves. Unlike a gas lawn mower there are no concerns about fuel or oil leaking if it the mower doesn't sit flat on a surface.
| | |
| --- | --- |
| Weight | 76 lbs \ 34.5KG |
| Voltage | 56 Volt |
| Drive | Self Propelled (adjustable speeds) |
| Cutting Width | 21 inches |
| Maximum Cut Area (single battery 7.0Ah) | 11,000 square feet |
| Cut Height Ranges | 1.5 to 4 inches (7 positions) |
| Maximum Grass Bag Capacity | 2 Bushels \ 70.4 Litres |
| 3 in 1 Function | Mulch, Discharge & Collection |
| Warranty | 5 Years (not include batteries) |
EGO LM2130SP Cordless Lawn Mower
Side discharge chute
Grass Collection Bag
Mulch Plug
Instruction Manual
The above lists the box contents of the model LM2130SP
We think the EGO LM2130SP is the best cordless lawn mower that money can buy. It has huge amounts of power and thanks to powerful batteries you can expect up to 1 hour of runtime from the 7.5Ah battery! Clearly a lot of thought has gone into the design of the mower, making it easy to use and a great performer.
Build quality is also excellent. All the materials used in the construction of the lawn mower are of high quality and no corners have been cut to reduce costs.
If you have a medium to large sized yard, then get the LM2130SP, you won't be disappointed!
 The EGO LM2130SP is our BEST OVERALL CORDLESS LAWN MOWER winner
Note: The LM2130SP is the US model
We hope you found our EGO Power+ LM2130SP review useful. If you have any questions then please get in contact
TGS NEWSLETTER
Sign up to get the latest reviews, news, tips and where to get the best deals!
You will only get emails from TGS (no 3rd parties)
We generally send one email per month