Best Cordless Lawn Mower for Small Yards
The Worx WG779 40V Cordless Lawn Mower is a lightweight mower that is best suited for smaller yards that are regularly maintained and under 5,550 square feet. When fully charged, expect a maximum runtime of about 40 minutes. The mower comes with 2 x 20V (40V) batteries, a mulcher and grass collection bag. The WG779 has been awarded Best Cordless Lawn Mower for SMALL YARDS 2021
Our Verdict
| | |
| --- | --- |
| WHAT WE LIKE  | WHAT WE DON'T LIKE  |
| – Good battery run time (about 40 mins) | – Build quality could be better  |
| – Four cutting heights | – Struggles in very long \ wet grass |
| – Folds up for easy storage |   |
| – Lightweight (35.3 lb) |   |
| – Mulching & Grass collection bag |   |
Worx are a big name in the cordless lawn mower world. They have been making cordless mowers for many years and generally they're pretty good at it. The Worx WG779 is a very popular model and offers all the essential features that most customers look for in a cordless mower and at a very reasonable price. If you have a small yard (no bigger than two single tennis courts) this mower should be on your short list. Read our full review of the WG779 below to help you decide if this the right mower for you.
Blade length: 14″ (35.5cm) cutting blade
Grass collector (8 gallons) or mulch option
Intellicut feature automatically gives extra torque when required
Mow up to 5,500 square feet (about the same  as two single tennis courts) on a single charge
Lightweight and easy and folds up for easy storage
Comes with two 20V 4.0Ah Power Share batteries (Lithium-ion)
Charge indicator on batteries
Dual-port charger – Recharge both batteries in one hour
6 different cutting heights
Video clip of the Worx WG779 in action
This feature provides you with extra torque, which can make it easier to cut grass when there is greater resistance due to thick grass or other reasons. This can also help cut down on energy usage, allowing you to mow longer without unnecessarily burning out the battery sooner. The system can sense when you are mowing in a low-intensity situation (that is, flat land with mild grassy build up) and reduce the power accordingly, or else amp it up to tackle more difficult situations (inclines with thicker grass).
This unit is a Worx Powershare product which means its battery is compatible with all Worx 20V and 40V power tools. This is great feature, as it means  you don't have to spend a fortune on different batteries for your Worx power tools. One battery works with them all. As you only have one battery type you also only need one charger. 
The Worx WG799 comes with a smart dual charger so you can charge both batteries at the same time. A full charge of both batteries will take about 2 hours and typically give up to 40 minutes runtime in the ECO mode. This is better than most mowers of this size and price point. 
Because the charger supplied with the mower is a 'smart' charger, it will not overcharge the batteries. Once a battery is fully charged, a red light will be displayed and the charger will automatically stop charging. This is good for the health of the batteries and is also good from a safety point of view, as batteries can potentially overheat and occasionally catch fire!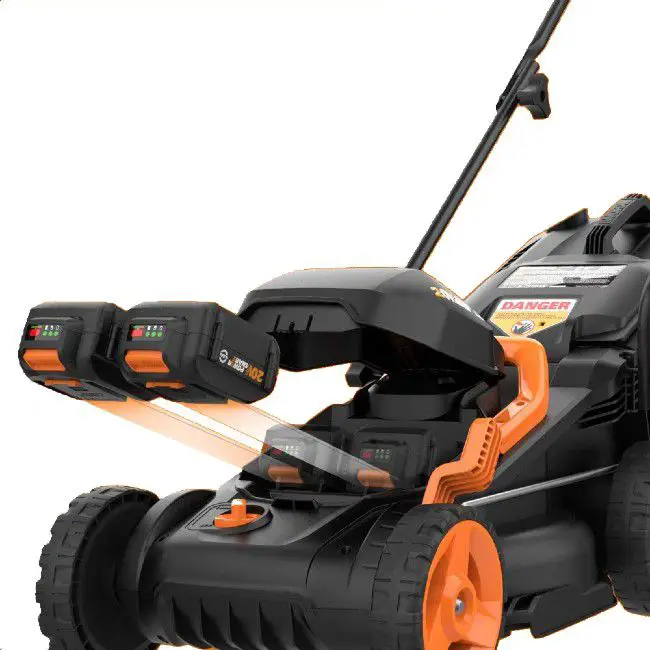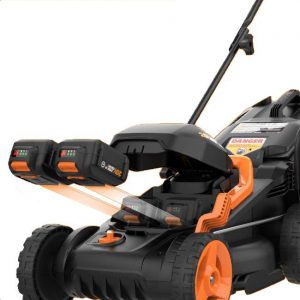 An onboard battery charge indicator shows you exactly how much power you have left, which is easily accessible when the batteries are loaded in the mower. The batteries themselves also have power indicators on them.
The grass collection bag also has an indicator, alerting you to when the grass bag is full. The bag capacity, which has a .85 bushel capacity, which is about 30 litres. The bag is a standard size for a lawn  mower of this size
If you have ever purchased a gas-powered lawn mower before, chances are you know how heavy it can be. By contrast, the lightweight nature of this model from Worx is one of its biggest assets. This is aided in part by the fact that, instead of a heavy metal deck, the model makes use of plastic that is lightweight yet very durable.
The mower handles are padded which gives a comfortable grip and greater control, as the grips prevent your hands from sliding about. Although, vibration from the mower is minimal, the padded grips also help absorb vibrations.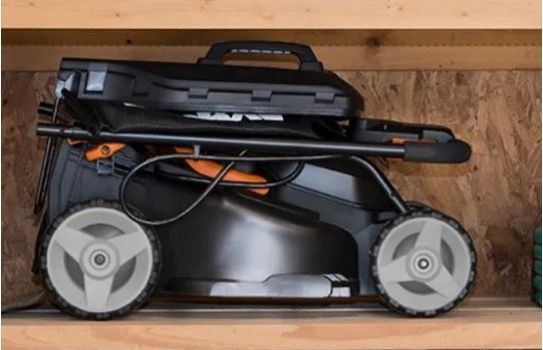 Another benefit of the lightweight build is that this model is a lot easier to store than other models. Once the handle bars have been folded up it can easily be stored on a shelf or hung on a wall hook. As the mower doesn't use petrol or oil it can be stored at any angle, even upside down if you really wanted to.
The mower is also on the quiet side, so you don't have to worry about giving yourself or your neighbors a headache with a loud roaring engine. Cordless mowers make roughly half the noise of an equivalent gas mower. Also compared to corded electric lawn mowers they a significantly quieter.
The noise produced by the mower can also be controlled by using the 'ECO' mode,  rather than 'TURBO'. However 'ECO' mode is not suitable for long grass conditions.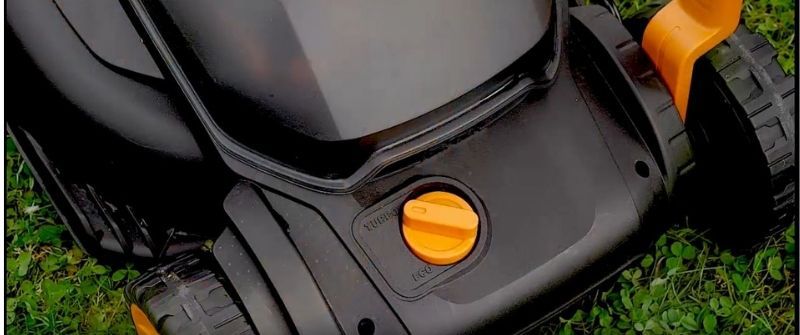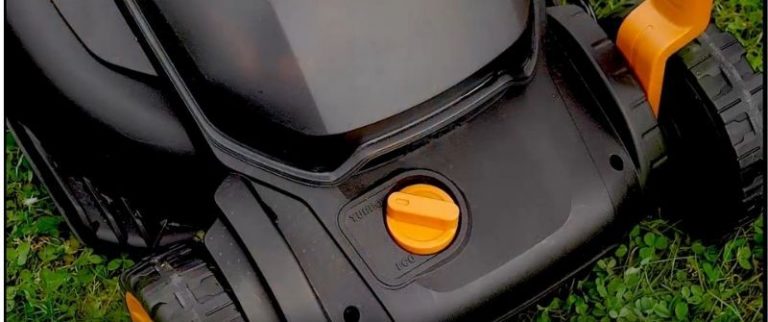 The blades on this mower are metal, which is big plus. Sometimes smaller cordless mowers have plastic blades which tend to wear quicker, break and not give the same quality cut as a metal blade.
The design of the mower means that it cuts very close to the edge. For most lawns you won't need to use an edge cutter, like a weed whacker or strimmer.
The height of the blade can be adjusted up and down to suit your requirements. The highest level is ideal for cutting grass that has got long or if the grass is wet. It should be noted that the WG779 is not really suited to cutting long grass. If you do cut long grass \ wet grass expect the battery runtime to be dramatically reduced. 
The cutting width is 13 inches, which is geared more towards smaller yards. If you have an area larger than two tennis courts to mow, we would recommend you look at getting a lawn mower with a larger cutting width. The largest cordless mowers have a cutting width of 25 inches 
A fairly unique safety feature of the Worx Wg779 is a key that has to be inserted into a plug for the mower to have power. The key is attached to the mower with a cord so it can't be lost. This is a great safety feature as it means the mower can't be accidentally be started, especially useful is you have children.
Other than the safety key, all the other safety features are the standard things you get on most cordless mowers.
| | |
| --- | --- |
| Weight | 29.1 lbs \ 13.1KG |
| Voltage | 40V (2 x 20V) |
| Deck Width | 14 inches |
| Cutting Width | 13 inches |
| Maximum Cut Area | 5,500 square feet |
| Cut Height Ranges | 1.5 to 3.5 inches (6 positions) |
| Maximum Grass Bag Capacity | 0.85 Bushels \ 30 Litres |
| Warranty | 5 Years (not include batteries) |
Worx WG779 Cordless Mower
Dual Port Battery Charger
2 x 20V Batteries
Grass Collection Bag
Mulch Plug
Instruction Manual
Overall, the Worx WG779 Cordless Lawnmower is a solid lightweight unit that's engineered toward eliminating many of the traditional hassles of heavier units. It is easy to assemble, easy to store, can maneuver and cut around corners with ease, starts at the push of a button and the battery and bag capacity indicator keep you apprised of your mower's status at all times.
As long as you don't mind the smaller size and the couple minor consequences that come with it, this mower will prove a solid long-term investment for your mowing and home maintenance needs.
The Worx WG779 is our BEST CORDLESS LAWN MOWER FOR SMALL LAWNS winner
Note: The WG779 is the US model, The WG779E.2 is the UK \ European model
We hope you found our review of the Worx WG779 cordless lawn mower useful. If you have any questions then please get in contact
TGS NEWSLETTER
Sign up to get the latest reviews, news, tips and where to get the best deals!
You will only get emails from TGS (no 3rd parties)
We generally send one email per month