Greenworks 40v 19-inch Review
Greenworks 25223 Cordless Lawn Mower
Good size mower for medium sized yards. This push mower works well in long grass thanks to a powerful electric motor. Well designed and comes with 2 x batteries, single charger and a grass collector bag. 
The Greenworks 25223 is a US model


Our Verdict
| | |
| --- | --- |
| WHAT WE LIKE  | WHAT WE DON'T LIKE  |
| – Share battery with other G-MAX tools | – Would prefer self propelled |
| – Powerful electric motor | – Reports of difficulty getting replacement parts |
| – Highly manoeuvrable  |   |
| – Mulch, Discharge & Grass collection (3 in 1) |   |
| – Supplied with 2 batteries |   |
There's a new way to mow your lawn, without smelly gas, cords and all the other hassle that lawn mowers typically cause. The Greenworks 40V 19-Inch Cordless Lawn Mower promises to make mowing a breeze instead of a chore, but does it deliver?
Find out what you can expect from the Greenworks cordless lawn mower (model 25223) in this review and whether it's right for you!
Up to 60 minutes of runtime (with both batteries)
19″ steel deck for wide a cut
G-MAX series (battery share with other in series)
Grass collector, discharge or mulch option
Mow up to 1/3 of an acre \ 14,500  square feet (about the same size as six single tennis courts).
Handles fold up for storing away
Comes with two 40V batteries (one 2.0AH and one 4.0 AH)
4 level battery power indicator
Single port charger – Recharge both batteries in about 3 hours
7 different cutting heights
The Greenworks cordless lawn mower is powered by a lithium-ion battery that is compatible with many of the company's other battery powered tools. The mower comes with two batteries, one is 4.0 Ah and a smaller one at 2.0 Ah. The charger is also included.
This lawn mower is 19" in size and has a steel deck for durability. The wheels are large for easy maneuverability over your lawn. The front wheels are 7" and the back wheels are 8".
Greenworks also advertises the flexibility of its mower. It has a lever to adjust the height and cutting range, which goes from 1 ⅛" to 3". You can also choose from three different mowing options: rear bagging (grass collection), mulching, and side discharge.
If anything breaks down, the Greenworks 40V 19-Inch Cordless Lawn Mower is covered by a three-year limited tool and battery warranty.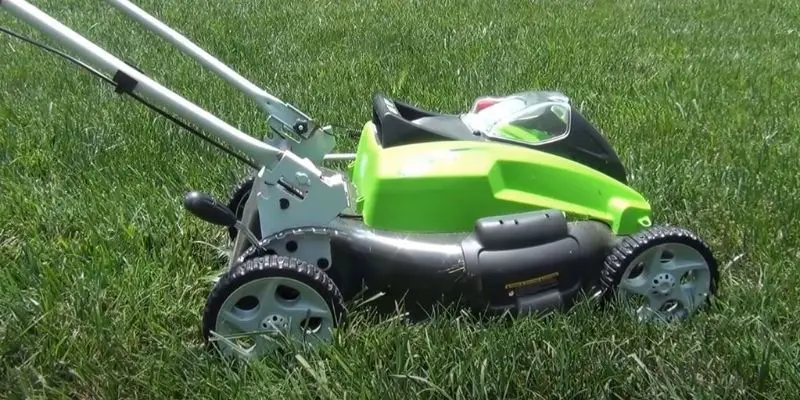 An electric mower is far better for the environment than a polluting gas mower. It will also make your home a more pleasant place to be without smelly pollution or noise. If your electricity supplier is 100% renewable energy, then this cordless lawn mower will have zero emissions  🙂
Compared to other electric mowers, the Greenworks mower packs quite the punch and it is almost as strong as your average gas mower. It should be noted that when the mower is in high power mode, which is typically required for long grass, the battery runtime is significantly reduced. Expect the runtime to be only a maximum of 30 minutes. In normal conditions it would be close to 60 minutes!
The batteries are relatively long-lasting, and because the mower comes with two, you can just switch them out when you need to continue mowing instead of stopping to charge one. However, if you have a larger yard, you may run out of battery life before you're done.
This model is compatible with other Greenworks 40V batteries
Although the mower is covered by a three-year limited warranty, some customers have reported trouble with replacing broken parts. The warranty does not completely cover the batteries, which are covered by a separate one-year warranty, so some people have struggled with getting broken circuits fixed or replaced. Others have reported problems with sourcing replacement parts for this mower because it is not yet common throughout the country.
It should be noted that Greenworks cordless lawn mowers are generally very reliable. So, hopefully you will not have to look for replacement parts!
Greenworks recommends this mower for lawns up to ⅓ or ½ acre in surface area. If your property is larger than that, you may struggle with the 19″ cutting path and battery life. To be honest, we would only recommend this lawn mower for a maximum area of ⅓ acre.
However, if you only need to take care of a small \ medium yard, the Greenworks 40V 19-Inch Cordless Lawn Mower is a great choice for you.
It's also a great choice for people who may not be experienced mowers or are concerned about the environment. This is also a great choice for people sick of lawn mower exhaust and loud motors.
Greenworks 40v 19 inch Specifications
| | |
| --- | --- |
| Weight | 61 lbs \ 24.3KG |
| Voltage | 40V |
| Deck Width | 19 inches |
| Drive System | Push (Manual) |
| Maximum Cut Area | 14,500 square feet or 1/3 acre |
| Cut Height Ranges | 1 1/8 to 3 inches (7 positions) |
| Warranty | 3 Years (1 year for battery) |
Greenworks 40V 19″ Cordless Lawn Mower (Model 25223)
1 x Battery Charger
2 x 40V Battery – 4.0AH and a 2.0AH
Grass Collection Bag
Mulching Plug
Owner's Manual
If you want an easy-to-use yet powerful mower to maintain your small or midsized lawn, this is the perfect electric mower for you. After the initial investment, you will save money on gas and maintenance costs compared to gas mowers.
The Greenworks 40V 19-Inch Cordless Lawn Mower also offers a much more pleasant mowing experience than others of its kind. The lightweight frame means that pushing it around is not a chore. It's quiet and odor-free, meaning that you won't have to deal with pollution and the racket of gas mowers.
Make your own lawn mowing experience more pleasant with this tool, or get the kids to do it for you!
TGS NEWSLETTER
Sign up to get the latest reviews, news, tips and where to get the best deals!
You will only get emails from TGS (no 3rd parties)
We generally send one email per month