Greenworks 40v 16-inch Review
Greenworks 25322 Cordless Lawn Mower
A great all-rounder lawn mower that is best suited for small to medium sized yards (up to 1/3 acre). A Battery (40V \ 4.0Ah), charger and grass collector are all included. Good construction and powerful enough to cope with most grass conditions. 
The Greenworks 25322 is a US model
Our Verdict
| | |
| --- | --- |
| WHAT WE LIKE  | WHAT WE DON'T LIKE  |
| – Good battery life (up to 45 mins) | – Replacement batteries are expensive |
| – Five cutting heights | – No power indicator on the mower |
| – Well designed | – Not self propelled |
| – Mulch & Grass collection bag |   |
Many people think that a cordless lawn mower is just a gimmick, but ley us assure you that they are not. The Greenworks 40v 16″ cordless lawn mower is certainly no gimmick. This product has been getting rave reviews from customers and experts alike for many years because it does everything that you would expect out of a gas-powered model without all of the hassle or mess. Read more about this Greenworks lawn mower (model 25322) in our review below
Blade length: 15″ cutting blade
Grass collector or mulch option
Mow up to 1/3 of an acre \ 14,500  square feet (about the same  as six single tennis courts).
Handles fold up for storing away
Comes with one 40V (4.0Ah) battery (Lithium-ion)
4 level battery power indicator
Single port charger – Recharge battery in about 2 hours
5 different cutting heights
One of the reasons for the massive increase in the popularity of cordless lawn mowers is their excellent green credentials. Electric mower engines are far more efficient than comparable gas engines. Gas engines are hugely inefficient wasting more 80% of energy produced. Not only are electric motors far more efficient, but their batteries can be charged from renewable energy sources and so actually produce zero pollution.
Battery power can be tested by pressing a button and the power level of the battery is indicated by 4 lights. Unfortunately, this model doesn't have a power indicator on the actual mower. Which can be a bit annoying, as you can't easily tell how much run time you have left without accessing the battery.
This model, also doesn't have an indicator on the grass collection bag to show when it is full. This is slightly inconvenient, but is something we think most people can happily live without.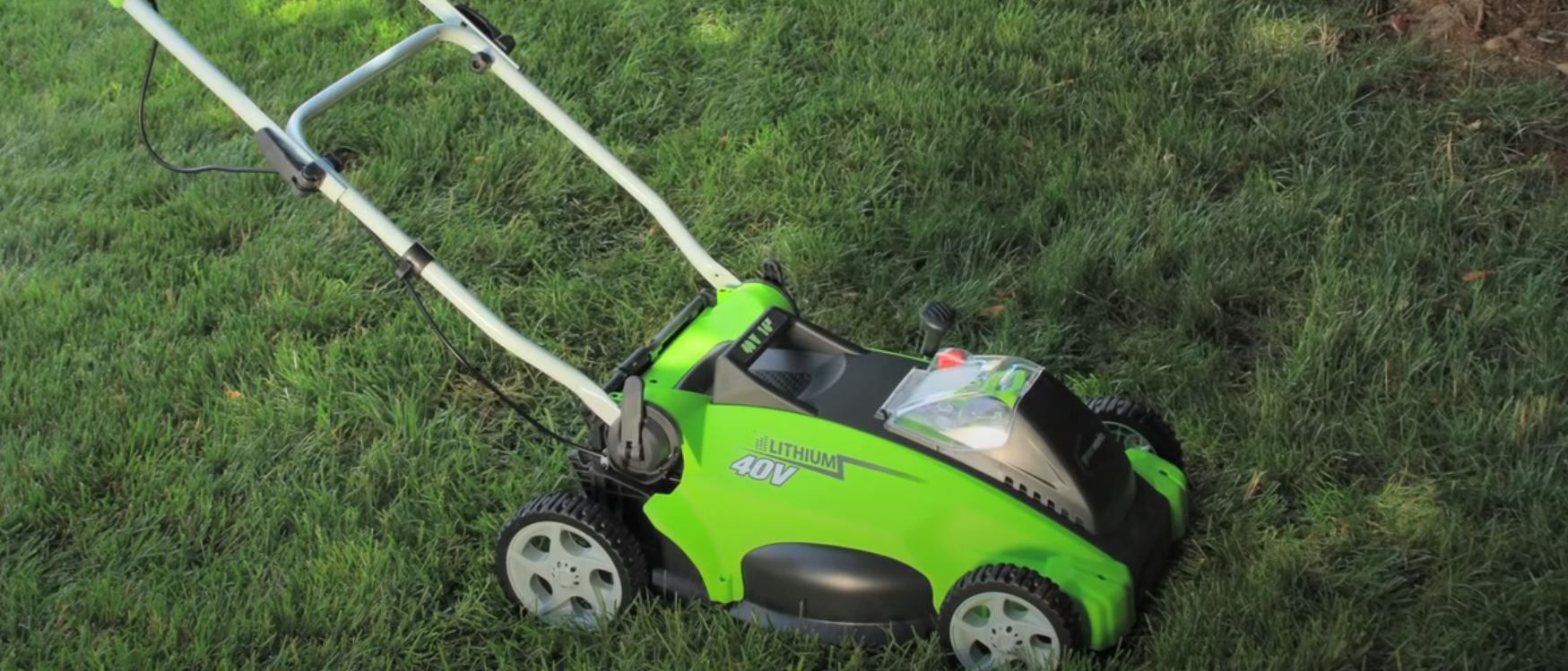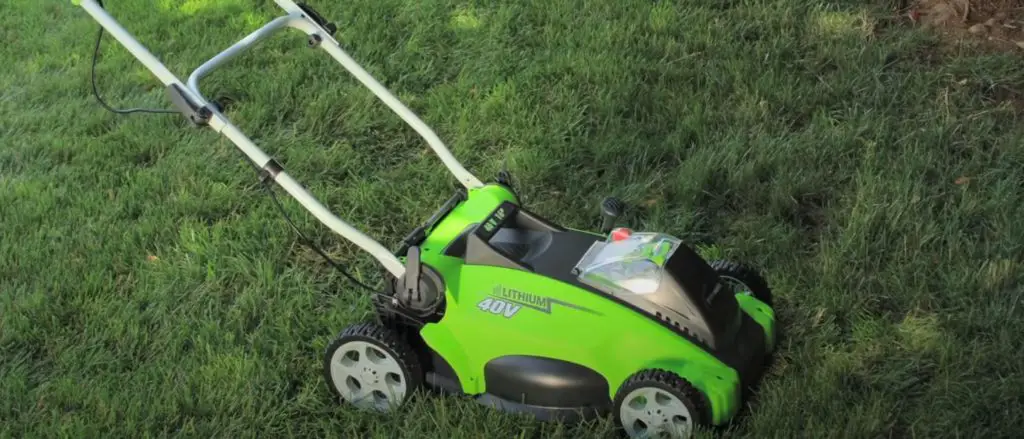 One feature of all cordless lawn mowers is that they are lightweight when compared to an equivalent gas mower and even corded electric mowers. This makes cordless mowers much easier to control. Allowing physically weaker individuals (for example seniors) to cut grass in areas that simply wouldn't be possible with a gas mower.
Handling is also made easier by the fact that there is no cord to keep moving out of the way. Which is often a big complaint by owners of corded mowers.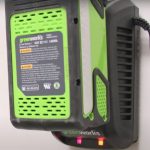 This cordless lawn mower is part of the Greenworks G-MAX power tool range. This means that the battery used by the mower can be used with over 40 other Greenworks power tools. Including other lawn mowers, blowers, string trimmers, hedge cutter, chainsaws and other similar tools. This is great as it means you only need one battery and one charger to power a whole range of products. 
As with just about all cordless lawn mowers the noise produced by this Greenworks 40V 16 inch mower is minimal. You will not find yourself reaching for ear defenders when the mower is running. The volume from the mower is so low that you can easily talk to someone else, without having to shout.
The mower has a single metal blade and a 15″ inch wide cut. This makes it suitable for small to medium sized gardens. If you have a large garden, then this lawn mower is not recommended. 
The blades have been designed to mulch grass if required. Basically mulching cuts the grass from lawn and then continues to cut the grass in to very small pieces which are returned to the lawn (not collected in the grass bag).
This has several benefits:
The grass acts a fertilizer, returning nutrients back in to the lawn.
It saves having to collect grass and then dispose of the cuttings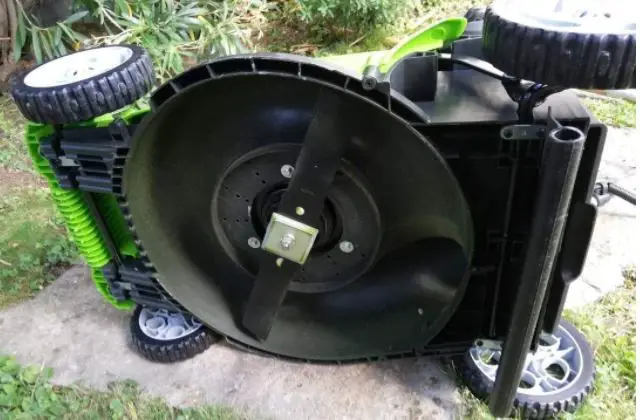 The mower has a safety lock out button that has to be pressed before the mower can be started. This makes it nearly impossible to accidently start the mower, especially useful if you have children.
The blade is not an instant stop that can be found on some mowers, but when power is no longer applied to the lawn mower the blade will stop fairly quickly. It won't continue spinning for ages afterwards.
Greenworks 40v 16 inch Specifications
| | |
| --- | --- |
| Weight | 52.9 lbs \ 24.3KG |
| Voltage | 40V |
| Deck Width | 16 inches |
| Cutting Width | 15 inches |
| Maximum Cut Area | 14,500 square feet or 1/3 acre |
| Cut Height Ranges | 1.25 to 3.5 inches (5 positions) |
| Warranty | 3 Years (includes battery) |
Greenworks 40 16″ Cordless Lawn Mowe
Battery Charger
1 x 40V Battery
Grass Collection Bag
Mulching Plug
Owner's Manual
The Greenworks 40 Volt 16″ mower is a good performer and is well suited to small and medium sized yards. If buying for a medium sized yard, this lawn mower is not self propelled, so some degree of fitness is required. This model (25322) has previously been awarded our 'Best Overall Value' award. 
We hope you found our review of the Greenworks 40V 16″  cordless lawn mower (model 25322) useful. If you have any questions then please get in contact
TGS NEWSLETTER
Sign up to get the latest reviews, news, tips and where to get the best deals!
You will only get emails from TGS (no 3rd parties)
We generally send one email per month